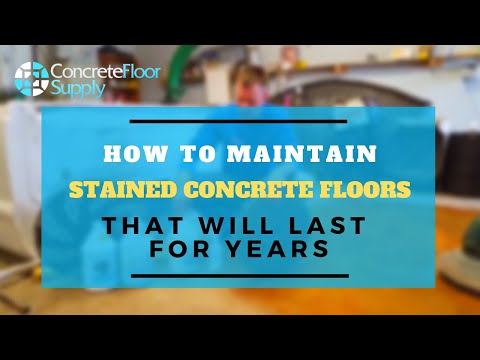 How to Maintain Stained Concrete Floors
3123 views 3 likes 2 dislikes
Channel: Concrete Floor Supply
In this video, we discuss how to maintain stained concrete floors by spray buffing with our products for a shine that will last through the years!
Follow the links below for descriptions of the products seen in this video and to purchase directly from our website.
The water-based concrete stain from Concrete Floor Supply is non-acid, polymer-bonded concrete stains. These stains penetrate into the concrete surface to produce vibrant, long-lasting UV stable colors. Stains dry quickly and have amazing color control!
https://concretefloorsupply.com/black-water-based-concrete-stain/
Enviro WB Sealer is used as a final protective coating over Enviro Stained concrete floors, countertops, etc. for use indoors and out with low odor and no flammable hazard. Enviro WB Sealer is a tough non-yellowing acrylic sealer for use interior and exterior to seal and protect surfaces decorated with Enviro WB Stain or can be used as a stand-alone, easy to apply sealer.
https://concretefloorsupply.com/enviro-wb-sealer/
EZ-Glo is a high gloss, non-yellowing acrylic floor polish for use on all types of sealed floors. It not only dries to a high gloss finish but can also be maintained by spray buffing.
https://concretefloorsupply.com/ez-glo/
Concrete DNA™ Diamond Satellite Pads are professional grade diamond impregnated pads that can be used dry or wet. They are available in 16″, 20″ and 27″ diameters and a range from 30-1500 grits. These pads will open the surface of flat concrete and hone the surface to properly accept a densifier/hardener and continue to hone and polish to 1500 grit.
https://concretefloorsupply.com/diamond-pads-with-resins/
———————————————————————————–
Free Catalogs:
https://concretefloorsupply.com/free-concrete-supply-catalog/
FAQs:
https://concretefloorsupply.com/faq/
Amazon:
https://amazon.com/shops/concrete-floor-supply
Instagram:
https://instagram.com/concretefloorsupply/
Facebook:
https://www.facebook.com/concretefloorsupply/
Pinterest:
https://www.pinterest.com/concretefloorsupply/
Video length: 3:39
Category: People & Blogs
2 comments
* This video was originally published here
Find a local concrete contractor in your area to help you with your concrete flooring needs by searching here on Concrete Floor Pros.
#concretefloorpros