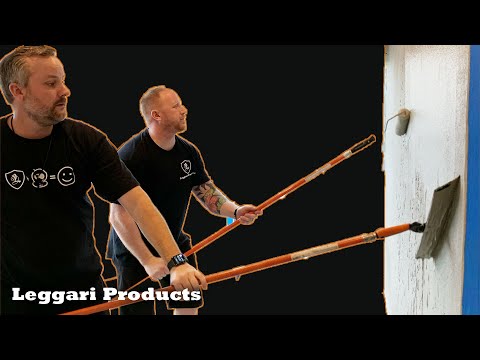 How To Install A Faux Concrete Wall Over Sheetrock With Integrated Logo Using Concrete Overlay
9638 views 194 likes 28 dislikes
Channel: Leggari Products
In this video you will watch us turn this into a beautiful masterpiece! We have an integrated logo, you'll see mistakes, all the steps and best of all, you'll see the complete step by step transformation!
For more questions please email us at [email protected]
Leggari has pioneered the development and installation of long lasting polymerized concrete coating technology. Far more durable than traditional coatings. Leggari's decorative overlays keep your concrete looking beautiful and protected for years to come.
Renovate and protect your existing concrete with endless design options, textures and colors.
In this video you will see us use our texture coat, and scratch coat. Check out more info on them below!
Our texture coat is a unique and highly flexible polymer liquid that is mixed with our proprietary cement and crushed marble aggregate creating a
cementitious based system that chemically bonds to almost any
surface. Designed for both exterior and interior use, enhancing and
protecting countertop surfaces from the most harsh elements.
Our scratch coat is a polymer-modified, cementitious based system using extremely fine powder that is designed and intended for use as a micro-topping finish coat over Leggari's Texture Coat to create a smooth concrete surface.
Video length: 35:01
Category: Howto & Style
26 comments
* This video was originally published here
Find a local concrete contractor in your area to help you with your concrete flooring needs by searching here on Concrete Floor Pros.
#concretefloorpros