Kitchen floors take a beating, even in the most gentle of households, because it's very often the heart of the home. It's where you cook meals, do homework, hang out with friends, hand out pet treats and, of course, eat.
If you're looking for a kitchen flooring option that can keep up with your life and everything you might drag through the kitchen, concrete flooring is worth a look. We caught up with home professionals to see why and when they use concrete flooring. Read on to see if concrete flooring might be a great option for your kitchen.
What is concrete flooring? Concrete is a natural material composed of a binder, a filler and water. The binder is most commonly Portland cement, but it could also be slag cement or fly ash. The filler is an aggregate of anything from river stones and gravel to sand or crushed glass.
When to use it. Concrete flooring is a good choice for people who live in warm climates, are looking for easy cleanup in the kitchen and don't mind having a rug to give the flooring more softness underfoot in high-traffic areas. It's also a good option for pet owners.
How to install. If you're building a new home, concrete can be an excellent choice to consider, but do it before construction begins. Concrete will be poured during the early stages of construction, which means you'll need to have your selections made before pouring begins.
In an existing home, floors can be stripped back to the concrete slab. This layer of flooring was not meant to be seen, so it will need refinishing. You can also have concrete flooring poured in your kitchen, but it will be important to have the builder ensure that the framing beneath can support the new flooring material. If the structure needs to be reinforced, that will cost more.
Drawbacks. As mentioned above, concrete adds weight to your home. You need to ensure that the existing framing can hold the weight. This could especially come into play if your kitchen isn't on the ground level of your home, says Laura Martin Bovard, interior designer and owner of LMB Interiors. "So the top floor of a Victorian house, as an extreme example, would not be an ideal location," she says.
Best climate. It's best for homes in warm climates, unless you are also going to install radiant heat. Concrete tends to hold the cold, Martin Bovard says. "We almost require that in-floor radiant heat be part of an indoor concrete floor install," she says. "A warmed concrete floor feels delightful to bare feet and is an energy-efficient way of maintaining indoor temperature in the home."
Cost. The final costs will depend on the finishes you decide to use on your concrete floor.
Budget: $2 per foot for slab with no stain
Mid-level: $6 per foot with a simple stain
High-end: $8 per square foot with multicolor stain
Whom to hire. A general contractor. For best results, Martin Bovard recommends hiring a foundation subcontractor and a concrete flooring specialist.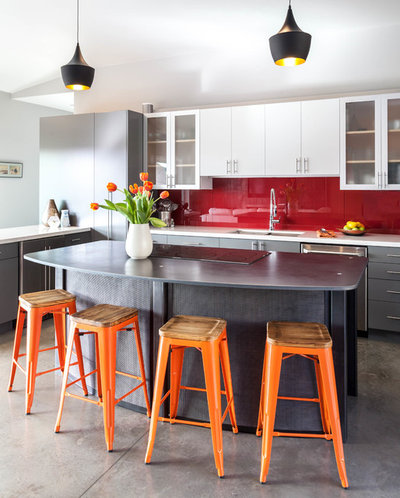 Installation time. Allow a couple of days. This timeline is comparable to wood or tile, Martin Bovard says. Additional stains, sealers or custom features, such as engraving, can take additional time.
This 300-square-foot kitchen by Rebecca Ward Design took three days to complete, which included skimming the existing concrete slab. The company that completed this flooring project charged a minimum of $3,000, or $4 per square foot.
Best time to install. Any time, but if you live in an arid or desert-like climate, Martin Bovard says the contractor may add a retarder to the concrete to slow down the cure time.
Durability. "Concrete is extraordinarily durable," Martin Bovard says. "It doesn't easily scratch and it withstands pretty much anything." The thickness of the concrete, amount of rebar used during construction and integrity of the subfloor will all affect the floor's durability.
If you drop a plate on your concrete kitchen floor, the plate will most likely break, but your floor should come away from the incident unscathed.
Water resistance. Sealed concrete floors will resist water. This same sealant can help control any dust released from the concrete, Martin Bovard says.
Maintenance. Concrete floors are easy to maintain. All you need to do is mop them with soapy water. You should get them resealed every now and again, but a good sealant should last 10 years, Martin Bovard says. You can do this yourself or hire a professional for the job.
Pet considerations. "It's great for people with dogs," says Kurt Reinkens, president of MWA. That's because it's difficult to damage. Unlike hardwood flooring, you won't see every little claw mark left on the floor by your pet.
When to replace. You should never need to replace a concrete floor. Concrete floors will last as long as the house. However, if you change your mind, it's expensive to remove concrete flooring.
Underfoot feel. "Some of my clients think it is too hard," Reinkens says. If you also feel this way, he suggests using area rugs or mats in high-traffic areas or in places you might frequently stand.
If your concrete is only sealed in an acrylic sealer, it will feel more like tile, says Felicia Majola-Moropane of Ekhaya Designs. If you use an epoxy coating, it will feel more like linoleum.
Style. When it comes to style, Reinkens says his company mainly uses concrete flooring in modern, midcentury modern, industrial and farmhouse-style kitchens.
The concrete will go well with steel accent plates, fir wood, reclaimed wood and any piece with a rustic or industrial finish. One of Reinkens' go-to stain brands is Scoefield.
Customization. When you first think concrete, you probably think gray. But that's not the only option for concrete flooring in your kitchen, Majola-Moropane says. The color palette available skews more toward natural colors, such as grays, greens and browns. The color variations are achieved through water-based stains, acid stains, dye stains, water-based sealers and epoxy sealers. When looking at epoxy finishes, Majola-Moropane says to consider reflector metallic or metallic epoxy for a different look. Concrete can also be engraved.
Why the pros like it. Concrete floors make for a great blank canvas to build upon, Martin Bovard says. This solid base allows her to pile on other natural elements that complement the common colors of concrete flooring, such as gray, green, taupe and sometimes even a light gray.
https://www.houzz.com/ideabooks/107089221/list/concrete-flooring-stands-up-to-the-test-in-the-kitchen/